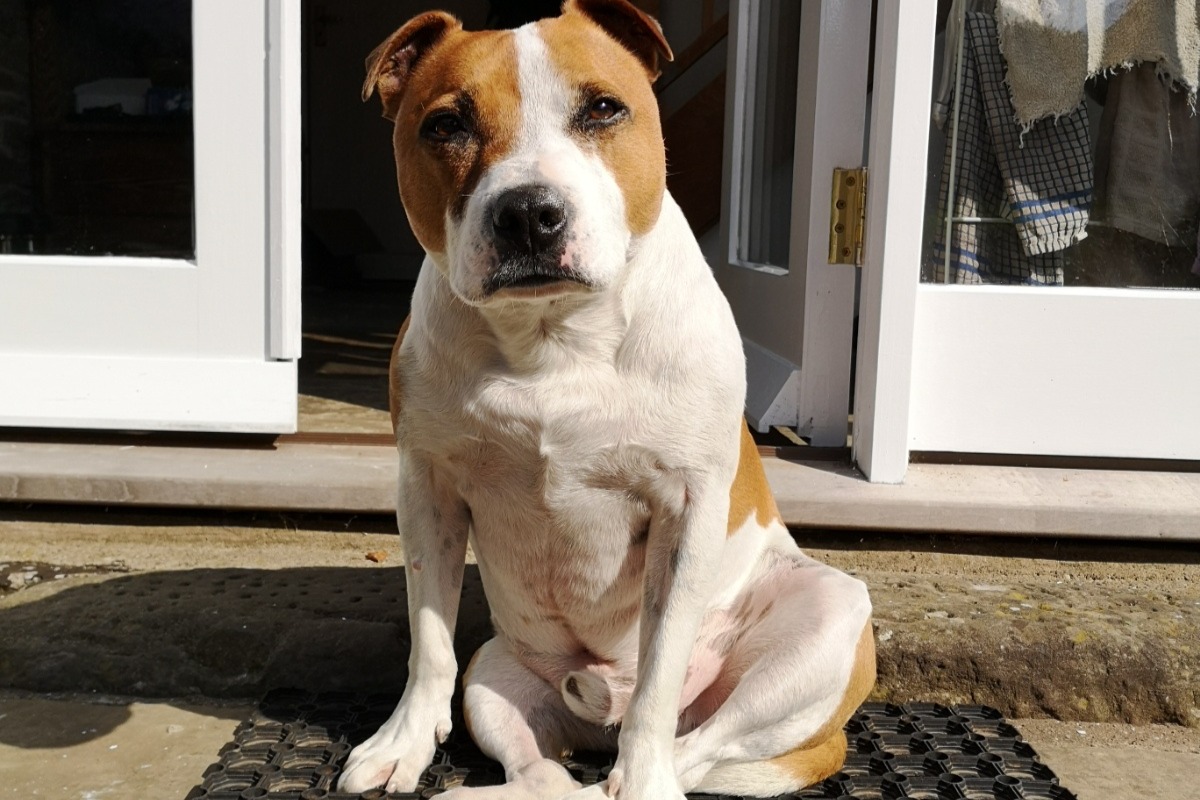 All the time I've known Chester, ever since he was rescued, he's been managing pain. He is so stoic but his body clearly hurts. His joints swell, his back aches, his knee cap displaces, he cracks and creaks, he's stiff and startles to gentle touch… And he seeks adrenaline's natural pain relief to wash all that away.
The abuse in his first home left him unable to walk properly or manage stairs. Raw food, supplements and hydrotherapy helped build up his strength. The Xrays showed underformed ligaments as the consequence of long term confinement in a crate too small for him. He has arthritis that's now managed with medication.
Not only has Chester's first home left him with life long physical pain, the trauma he endured at their hands also gave him a fear of being touched by strangers. For a dog so miserably treated he's worked so hard to learn and trust new people. Over the years he has made loving friendships, sometimes within an instant, but all this depends on his pain levels that day.
https://www.gofundme.com/f/restoring-chesters-mobility
Chester adores people, he loves dogs, he would love more friends but the pain is getting harder to manage. Understandably, he doesn't logically grasp that his leg pain isn't caused by those around him.. So he prefers to keep strangers at a distance. Seeing him endure such pain and forgiving his friends without so much as a growl makes me so sad. He is the goodest of boys, he deserves so much better. No one is made to suffer, its time he had a life without debilitating pain.
Alternative medicine, behavioural therapy and vet prescriptions have helped but even still he struggles on. We are once again changing his meds in hope this helps, but this time I'm also planning to give him a new knee!
https://www.gofundme.com/f/restoring-chesters-mobility
Chester lives for swimming, tag with other dogs, tuggie, training, and cuddles with people. All these are limited due to his leg pain. His life is unnecessarily limited, sadly it always has been.
You may know me, that I'm Autistic, have ADHD and PTSD. You may know how Chester is my best friend, training tutor, the most sensitive and affectionate companion I could ever dream of. Without him I would be utterly lost. He helps me navigate my emotions, he knows exactly what I need. But what what I need the most, what he can't give me, is for him not to suffer. He is happy and well cared for, and yet that's not enough…. He needs surgery. Sadly my health is not good so I'm unable to work and provide for this treatment. So I'm asking for the help of his friends, fans and from kind people who want to see him thrive.
https://www.gofundme.com/f/restoring-chesters-mobility
The Plan
Brookfield Vets, Hereford, are arranging treatment with an osteo surgeon from West Midlands Referrals.
The patella surgery and follow up appointment is minimum £2258. The consults, Xrays and sedation prior to this is minimum £400. We won't know the extent of the damage until Xrays are taken so the estimate is £3000.
If it costs less then the extra funds will go towards his rehab, he will need hydrotherapy and medication to start with. We are currently saving for the Xrays as our insurance won't cover preexisting conditions.
Any financial support you can offer inspirational Chester will be gratefully received.
Thank you!
Layne
https://www.gofundme.com/f/restoring-chesters-mobility
VISIT THIS LINK TO DONATE
https://www.gofundme.com/f/restoring-chesters-mobility
or if you'd prefer to use PayPal here's my link paypal.me/LayneArlina

See more on Chester on my training instagram
www.instagram.com/StreetwiseDogs